SARVER, Pa.: Donny Schatz looked like he was going to settle for a third-place finish Tuesday night when the World of Outlaws visited Lernerville Speedway.
After leading the bulk of the Don Martin Memorial Silver Cup, Schatz lost the lead to Brad Sweet and was passed by Kyle Larson for second. With three laps left, Schatz appeared to fall out of contention.
Then again, this is Donny Schatz. He is a 10-time World of Outlaws champion, who is closing in on 300 wins with the series. There is no give-up in the Tony Stewart Racing driver, and he does whatever is needed to win.
Schatz put on an epic charge over the last two laps, blowing by Larson and slipping past Sweet on the last lap to secure his seventh Silver Cup title. The triumph bagged the Fargo, N.D., driver a nice $25,000 payday.
"I had nothing to lose," Schatz said. "I dove down going into one, and [Sweet] went around the top, so I went across there and never saw him after that. Sometimes when that happens, you get startled, and you might spin your tires.
"That's one thing we have struggled with the last two months, getting the tires caught up on this thing. Rick [Warner], Andy [Durham], and all of these guys have worked awful hard to make that power band better for me, and this is the new version of stuff tonight."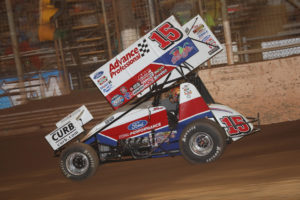 Continued Schatz, "We've still got newer versions of this stuff coming week-by-week, but it can't happen soon enough. At least we are getting ourselves in a better spot, right now. Hey, we won a race tonight, so that is huge."
This 40-lap battle was like watching a Super Bowl between two Hall of Fame quarterbacks. But in the case of this race, there were three players on the field, and they are the best in the sport, right now.
Sweet struck first by leading the first six circuits. Schatz, who started sixth on the grid, made an early move to take third by the completion of Lap 3. Larson, who started third, slipped back to fifth.
Schatz was on rails through Turns 1 and 2, slicing across the bottom of the speedway. Parker Price-Miller fell victim to the Schatz onslaught in that corner on a Lap 5 restart, and Sweet got blitzed two laps later.
Cautions mired the first half of the event. Michael Bauer and Sye Lynch tangled on Lap 11, with Daryn Pittman spinning in the second corner one lap later, which led to a fuel stop with 11 laps complete.
Price-Miller, who fell back to fourth, tried to play an MVP role in this game on the Lap 12 restart, when he shot around Larson and Sweet to take second. Both drivers got back around Price-Miller by the halfway point and trailed Schatz by 2.210 seconds.
No lead was insurmountable in this sprint. Sweet started to chip away at Schatz's lead on the bottom of Turns 3 and 4. He closed to within 1.123 seconds by Lap 23 and caught a break when Jac Haudenschild suffered a right rear flat on the 24th circuit.
Sweet stalked Schatz on the restart, nailing the bottom through the third and fourth corner to take the lead by a mere .040 seconds on Lap 28. He opened up a slight .475-second advantage by Lap 31, but Schatz kept pounding the top in Turns 3 and 4 and was able to wrestle the lead away by .023 seconds on Lap 33.
It was short-lived. Sweet matched Schatz and was back out front on Lap 34, and Larson was coming fast on the bottom of the speedway. Schatz also moved down, but he struggled, and Larson took the runner-up spot on Lap 37.
"When I went to the bottom for two laps, I just wasn't very good," Schatz said. "I went down there, and Larson got by, and I had to get back up there.
"They got their car stuck, pretty much all over. You've got to be pretty good to stay in front of [Brad]. You've got to carry speed, and I knew I couldn't go down there. There was no reason for me to even try, and I just wanted to carry as much speed as I could.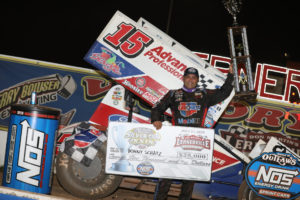 "One time, I smoked it into three and got over the lip, which is kind of unlike me. But if I was going to win a race, I had to do something crazy."
Not crazy, just good.
Despite running third, Schatz threw a Hail Mary and continued to pound the top of the speedway in three and four. He closed on Larson coming out of Turn 2 with 38 laps down and coasted around the cushion in Turn 4 to slip past the former NASCAR star coming to the white flag.
Sweet was laboring a bit. Meanwhile, Schatz had plenty of momentum and rocketed to the bottom of Turns 1 and 2 and pedaled the car up the track in Turn 2 to lead down the backstretch on the final circuit.
"Once I got back up there, I got by [Larson] and thought, 'I might have a run at Sweet if he keeps doing what he is doing,'" Schatz said. "I did, so I was able to snooker him. If that would've been five laps sooner, I don't know if we would've gotten there.
"That's all part of the dynamic of the race. They could see what I was doing when I was leading and could move around. When you are running second, sometimes you have nothing to lose. I certainly didn't have anything to lose running third."
Said Sweet, "I felt like I was struggling at the end. I just didn't know where to be on the racetrack. When I ran the bottom in one and two, I felt I was going really slow. I felt like someone would be coming on the top, so I committed up there.
"The track changes, lines change, Donny changed his line, Larson was coming, and I was spinning off Turn 2 quite a bit. So, it's just one of those things. The driver has to do a better job, especially racing those two."
Once Schatz hit Turn 3 first on the last circuit, he went into protection mode. He entered toward the low side and slid up to protect the slider and was able to get to the line first by a scant .310 seconds.
Said Schatz on being the old guy of the trio battling for the win, "I'm an old guy, alright, but I can still kick a little ass … or a lot of it."
Larson hugged the low side in the last two corners to get by Sweet, but he fell short of denying Schatz his seventh career Silver Cup victory and 297th win with the series.
Sweet was .526 seconds back in third. Sheldon Haudenschild and 2019 Silver Cup champion David Gravel completed the top five.
"I thought the top wasn't very good, but we got going slow enough around the bottom that, I guess, it wasn't surprising that [Donny] was able to sneak around me and get the run on Brad," Larson said.
"I just didn't get off two enough. I felt like if I would've got off two better, I could've gotten by Donny and Brad in three and four … I just spun a little bit. It's was hard to hit the bottom; it was a little narrow down there. It was a really good race, and cool to contend again."
Sprint Car Feature Finish, 40 Laps: 1. Donny Schatz; 2. Kyle Larson; 3. Brad Sweet; 4. Sheldon Haudenschild; 5. David Gravel; 6. Carson Macedo; 7. Jason Sides; 8. Parker Price-Miller; 9. Logan Schuchart; 10. Tim Shaffer; 11. Brent Marks; 12. Chad Kemenah; 13. Kraig Kinser; 14. Kerry Madsen; 15. Daryn Pittman; 16. Sye Lynch; 17. Kasey Kahne; 18. Michael Bauer; 19. Mason Daniel; 20. Gio Scelzi; 21. Jac Haudenschild; 22. Carl Bowser; 23. Lucas Wolfe; 24. Wayne Johnson; 25. Jacob Allen; 26. Hunter Schuerenberg.
DNQ: Mason Daniel (Provisional); Carl Bowser (Provisional); Brandon Spithaler; John Garvin; George Hobaugh; Cole Macedo; Brandon Matus; Clay Riney; Bill Rose; Steven Haefke; Jeremy Hill; Tony Fiore; Kip Edwards; A.J. Flick.