Logan Wagner had no idea that he was in pretty elite company in the thick record books at Port Royal Speedway.
Frankie Thompson, Smokey Snellbaker, Keith Kauffman, Lance Dewease, and yes, Logan Wagner: They are the only drivers in the 71-year history of the famed speedway who have won three straight track championships.
Only one of those drivers — Keith Kauffman — was able to get to four straight titles. He owned the Juniata County oval from 1978 through 1981, and Wagner can duplicate that feat with another championship in 2021.
But Wagner isn't caught up in reaching Kauffman's stature. Instead, it's all about week-to-week performance and winning races when the weather breaks and Port Royal Speedway begins its season.
"I really never thought about it that much," Wagner, 30, said. "If it happens, that would be cool. It's something to be proud of, to go for, and to strive for, but at the end of the day, I'm going for wins.
"I would, honestly, rather win the Tuscarora 50 or a big show like that than win the points, but it's still really cool. Anytime you go to an Outlaw show, they always announce three-time Port Royal champion."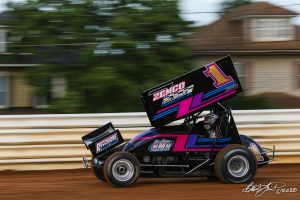 Continued Wagner, "So, you are characteristically known for that for years to come, and that's a really cool honor. In the end, I'm looking for wins, looking for big-race wins, and to be better as a driver."
Wagner, of Harrisonville, Pa., and car-owner John and Pee Wee Zemaitis hooked up before the 2018 season. In their first 69 races, which spanned two years, they managed nine wins, 27 top-five finishes, and 42 top 10s.
The 2019 campaign was the best of the two. Wagner and Co. racked up six victories, including the prestigious Jim Nace Memorial National Open at Selinsgrove.
That performance led to higher expectations in 2020. Everything was looking good in Wagner's first two starts, but after a third and second-place finish at Port Royal, the Coronavirus pandemic hit, and things turned.
Wagner had speed at times, but he didn't meet his own expectations. The end result was one win and 11 top-five finishes in 36 starts.
"We were top three the first couple of shows and contending for wins when COVID hit, and that took the wind out of our sails," Wagner said. "I think that hit us worse than anything, and then we tried to get back going out at Pevely with my dad's stuff, and I feel like other people got some races in prior to us and got rolling better than we did.
"We struggled to get going again and got behind the eight ball. In Sprint Car racing, when you don't have the seat time like everybody else, it's tough to get going again. So, we just got behind and then we had some unfortunate things happen racecar wise, driver errors … it just snowballs into not getting wins.
"Then, you get pressure to get wins, and it's tough. If you aren't getting wins and not running the way you want to, you are searching and trying stuff. A lot of times, if you are searching and trying things, it isn't going to help you."
Wagner and the Zemco team know all too well. That is why they made a conscious effort in the offseason to get back to what has worked in the past.
As for Wagner, he also knows that he has to deliver. That means getting off to a good start early and keeping things rolling through the middle and late stages of the season.
"We're coming into the new season with things that have worked in the past and things that worked for the Zemco team as a whole," Wagner said. "We are going back to the basics and things they know.
"We focused a lot of attention on that while focusing on time trial shows and speed for those two laps to position ourselves throughout the night.
"As a driver, I need to come out strong early. I need to set my mindset up and physically and mentally get ready to conquer early and get the ball rolling. Picking off a couple of wins early makes for a good year."
It also opens up Wagner's schedule.
If the Zemaitis team can show speed and get results, they will tackle Williams Grove Speedway and other tracks in the area more. It could also mean a trip to places like Eldora Speedway and Knoxville Raceway for the Nationals.
As for that fourth straight championship at Port Royal Speedway, Wagner will be in the hunt. He will be there Saturday nights looking to bag checkered flags and to pile up wins, which will take care of the points.
"Big picture, I don't hold a candle to what Keith Kauffman did," Wagner said. "What do I have, nine or 10 wins at the speedway? He has over 100. But to be that consistent as a driver the last four or five years, it means something.
"Maybe someday I will look back and say, 'Well, I was really fortunate to be in that position or was fortunate to be in that same conversation.' The wins and things Keith accomplished, there and at other tracks, it's unreal to look at his stats.
"Keith sold milk at the speedway and got into a Sprint Car and was dominant. So for now, we are focused on winning races and accomplishing those championships for John and Pee Wee."