1. It's been a pretty good four-race stretch in central Pennsylvania for Justin Peck. The Tom Buch Motorsports ace has two wins, a second-place finish, and a sixth. The two wins came at Port Royal and Williams Grove Speedway.
2. The pill draw hasn't exactly hurt Justin Peck's cause. He started third and finished second on Opening Day at the Grove and followed it up with a pair of wins in which he started on the outside pole for each event. He pulled a 69 for his heat race at Port Royal and charged from 12th to sixth in the main event.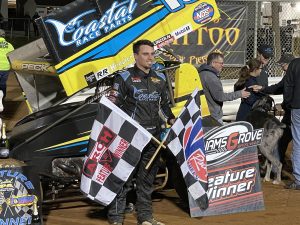 3. Danny Dietrich got the crowd buzzing at Williams Grove Friday night. A heat-race incident buried the Gettysburg driver in the B-Main, and he lost out on making the race by one position in the consolation. Dietrich admitted on social media that he paid Brent Shearer to scratch, which allowed the former champion to start 24th.
4. Once Danny Dietrich was in the Williams Grove main event, he made the most of it by charging from 24th to ninth in the final rundown. He went to Port Royal Speedway on Saturday and finished third.
5. Steve Buckwalter took off a weekend after a couple of flips and more problems the first three weeks of the season. The Royersford, Pa., driver returned to the Grove on Friday and finished fifth, recording his first top five of the season.
6. Midwest driver Justin Henderson competed in central Pennsylvania this week. He broke a throttle linkage on the last lap at Williams Grove and finished 14th. He was 12th at Port Royal Saturday night.
7. With the FloRacing All Star Circuit of Champions featuring a heavy slate of races in Central Pa., Tyler Courtney came into the region to get laps at Williams Grove and Lincoln Speedway. He finished 12th at the Grove and 16th at Lincoln.
8. Speaking of the All Star Circuit of Champions, the series continues its season this Friday and Saturday at Attica Raceway Park. These are the first two point races of the season.
9. The World of Outlaws NOS Energy Drink Sprint Car Series is in full swing, and so is Brad Sweet. The California driver won his second straight main event with the series on Saturday in the Jason Johnson Classic at Lake Ozark Speedway. He has three wins this season.
1o. Over the last six races, Brad Sweet has been on the podium each night. His average finish in the stretch is 2.0, and he leads the point standings by 32 over Logan Schuchart.
11. If you didn't see Brad Sweet's victory at Lake Ozark Speedway, you missed a dominating performance. The track was rough, but Sweet manhandled his car to a four-second win over Sheldon Haudenschild.
12. Sheldon Haudenschild continues his consistent runs with the World of Outlaws. He has two wins, a second, and two fifth-place finishes in the last five races. He is tied for fourth in the standings with Donny Schatz, a mere 60 points behind Brad Sweet.
13. Friday's World of Outlaws event at US 36 Raceway was canceled due to rain. As of now, there is no make-up date.
14. It didn't take James McFadden long to get acclimated to his surroundings with the World of Outlaws. In three events, he's finished eighth, 10th, and third. The third-place finish came Saturday at Lake Ozark, a track he won at last season.
15. T.J. Stutts, Steve Buckwalter, and Jordan Givler notched their first top-five finishes of the season in central Pennsylvania. There have been 26 different drivers in the top five this season in the region.
16. Dylan Cisney earned his fifth career victory at Port Royal Speedway Saturday night. It was also his fourth top-five finish, which is tops in Central Pa. this season.
17. Not only is Justin Peck the only repeat winner in central Pennsylvania so far, he has led the most laps with 50. Freddie Rahmer is second with 49 laps led, with Tim Wagaman in third with 38.
18. A total of 16 different drivers have led laps in central Pennsylvania races this season. Justin Peck and Hunter Schuerenberg are invaders who have led laps.
19. Anthony Macri had a rough weekend. After blistering the field in Friday's heat race at Williams Grove, he had a tire issue in the feature. He also stopped to question a call and was put the rear before taking it to the pit area. On Saturday, he had a rear axle break while running in the top five.
20. Four new winners joined the 410 Sprint Car National Win List last weekend. DJ Foos won at Attica Raceway Park, with TJ Michael claiming the FAST victory at Waynesfield Raceway Park. Jim Siegel (Lincoln Speedway) and Dylan Cisney (Port Royal) won in Central Pa.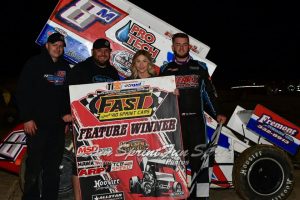 21. There have been 22 different feature winners in 410 Sprint Car competition around the United States in 2021. A total of 31 races have taken place so far.
22. We mentioned Brad Sweet's recent dominance in World of Outlaws competition. He has led 94 laps this season, which is twice what second-place Aaron Reutzel has led. Donny Schatz is third with 28 laps led.
23. Tim Shaffer came into last Saturday's event at Lincoln Speedway as the point leader at the speedway, but he didn't leave that way. He was involved in a heat-race incident and only completed one lap. He didn't come out for the consolation.
24. Car count is always a hot topic in central Pennsylvania to start the season. This week it was good, as all three tracks — Williams Grove, Lincoln, and Port Royal — had 30 cars.
25. Selinsgrove Speedway was scheduled to open the 410 Sprint Car portion of its season this week, but rain forced officials to cancel the program.
26. Danny Dietrich has advanced the most spots in Central Pa. this season. He is plus-57 through five weeks in 2021.
27. George Hobaugh is second in plus-minus in the East, advancing 35 spots. Tim Shaffer has advanced 24 spots and is third. Logan Wagner is fourth at plus-22, and Tim Wagaman and Alan Krimes are plus-19.
28. A total of 69 different drivers have qualified for the feature in 10 Sprint Car events this season in central Pennsylvania.
29. Of the 69 drivers who have made an A-Main in 2021, 37 of those competitors are on the plus side of spots gained in Central Pa. feature competition.
30. The surprising plus-minus so far is Freddie Rahmer. He is last in Central Pa. at minus-39. That number can be attributed to not finishing three events at Lincoln Speedway.
31. Is it wrong that I already miss the NFL and football, in general? With all the free-agent happenings, I can't wait until the 2021 season.
32. If you were wondering where Ryan Smith has been, it was answered this week. He captured the United Racing Club season opener at Bridgeport Speedway.
33. On the West Coast, Dominic Scelzi is dominating the spotlight. He swept last weekend's Kings of Thunder events at Thunderbowl Raceway and has four wins with the series in March. He also finished third at Stockton in a King of the West event.
34. We mentioned earlier that Jim Siegel won last week's Sprint Car race at Lincoln Speedway. This is the 48th year a Siegel has raced at Lincoln Speedway.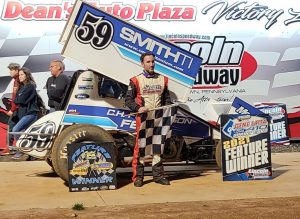 35. It looks like the Siegel name might be entrenched in area racing for years to come. Jim Siegel's 12-year-old son, Jude, will compete in his first 600 cc Micro Sprint event at Trail-Way Speedway next Saturday.
36. The AMSOIL USAC National Sprint Car Series gets back underway this Saturday night at Lawrenceburg Speedway. The last race took place on Feb. 12 at Bubba Raceway Park and was won by Justin Grant.
37. Justin Grant leads the USAC National Sprint Car point standings going into next weekend. He has 153 points and is 11 markers ahead of Brady Bacon and Kevin Thomas Jr., who are tied for second.
38. Look for Kevin Thomas Jr. to be in the mix for the win at Lawrenceburg Speedway. He's won there before and has renowned crew chief Davey Jones working on his car this season.
39. Tanner Thorson is fourth in the USAC Sprint Car standings heading into Lawrenceburg. It was recently announced that Thorson will be running for Reinbold-Underwood Motorsports full time on the national tour in 2021.
40. The Sprint Car Challenge Tour ran its first race since November 2019 last weekend at Placerville Speedway. Tanner Carrick, 19, got the win in the main event.
41. It was supposed to be a big three-race weekend in Texas and Arkansas for the Lucas Oil ASCS National Tour regulars. The weather had other ideas, and rain washed out all three nights at Superbowl Speedway and I-30 Speedway.
42. Justin Sanders was back in Victory Lane at Ocean Speedway last week. The Aromas, Calif., drive has won four of his seven starts this season.
43. Reserved for Richard Petty and Jerry Reigle.
44. We set the over-under win total at 22 for Buddy Kofoid in 2021. He added two more POWRi victories this week and now has seven overall this season.
45. The PA Sprint Series has a two-race weekend coming up at Williams Grove and Port Royal Speedway coming up. There are 50 cars registered for Saturday's program at Port Royal.
46. If you are looking to handicap the World of Outlaws visit to I-55 this week, Sheldon Haudenschild and Brad Sweet are good bets. They each won a main event at the racy Missouri facility last season. Sweet also had three podiums in four starts.
47. There has been three races in Ohio this season, and 15 different drivers have registered a top-five finish. Look for drivers to double up when the All Star Circuit of Champions come to Attica Raceway Park this week.
48. Logan Wagner hasn't won at Port Royal this season, but he's put together some impressive runs. On Saturday, he charged from 17th to fourth in the final rundown. He has passed 22 cars at the Juniata County oval this season in registering three top-five finishes.
49. The biggest mover at Port Royal over the first three weeks was George Hobaugh. He's passed 35 cars and has a season-best eighth-place finish on March 20.
50. There have been five All Star Circuit of Champions events this season, and a full-time series driver has yet to win a race. Look for that string to be broken this weekend at Attica Raceway Park.