PORT ROYAL, Pa.: Lance Dewease was viewed a little different coming into this year's Tuscarora 50 at Port Royal Speedway.
Over the past three or four seasons, Dewease has been the favorite. The Don Kreitz Jr.-owned entry was one of the fastest cars throughout the season in central Pennsylvania and was the team to beat.
That wasn't the case in the 2020 version of this event. Coming in, it was all about Kyle Larson and his epic season and even Anthony Macri, who entered the weekend with six wins at the speedway.
Dewease changed the perception with a win Friday night at the Port. He put an exclamation point on it in Saturday's finale, when he took advantage of Rico Abreu's misfortune and drove away late to capture his seventh Tuscarora 50 crown and $53,000 payday.
"The $53,000 is great, but the Tuscarora 50, getting my seventh, and doing it over four decades is pretty cool," Dewease said. "It tells me I'm old, but it tells me we've been pretty successful at this race.
"That was kind of neat, and it's special because we have been flying under the radar a little. In year's past, I guarantee you people thought we were the car to beat. Until last night, nobody was really thinking that.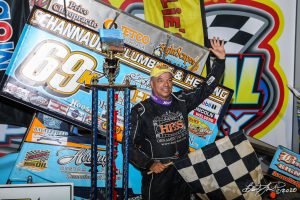 "These guys do a great job and keep plugging away. They know where they make mistakes and learn from mistakes. They keep excellent notes and learned some things from when we ran second to Larson, and that really helped us."
It looked like that from the way Dewease performed over the weekend. And it resulted in a satisfying victory.
Dewease started on the pole and got the jump on Rico Abreu when the race went green and led the first lap by .137 seconds. Two laps later, Anthony Macri shot past T.J. STutts going down the backstretch for third.
The first caution of the event occurred on Lap 5, when Stutts slowed with apparent motor problems. Abreu chased the Fayetteville driver on the restart, with Macri, Tyler Courtney, and Kerry Madsen going three-wide for third.
Abreu kept Dewease in his sights and closed to within three car-lengths on Lap 13. On the next circuit, he slid the leader in Turns 1 and 2, but Dewease ducked low off the second corner to retake the spot.
The frontrunners entered lapped traffic on Lap 15. Abreu continued to harass Dewease and was less than a car-length back at the stripe on the 18th circuit. One turn later, Abreu sailed into the lead on the top of Turns 1 and 2.
"Rico was going pretty good, and I kind of got caught napping a little bit and got too conservative in the first half, which let him get by me," Dewease said. "I was a little mad at myself for that."
The pace was slowed for a second time on Lap 20, when Brian Brown stopped on the backstretch. Over the next five laps, the top five remained the same, and the red flag was thrown at the halfway point.
Teams stopped on the frontstretch and were given five minutes to work on their cars. The only thing they couldn't do was change tires and hold their position.
Abreu got off to a quick start after the break, with Dewease searching around the track for a faster way around. By the time Lap 30 was scored, the California driver had built a .939-second lead.
Dewease cut into it a bit, but then Abreu nailed the top and added a couple of tenths to his advantage. Abreu led by over a second on Lap 31 before Dewease cut it down to .734 seconds by Lap 37.
"We made some changes on the car under the red, and I felt pretty good," Dewease said. "It was just so fast around the top, and we had to wait for traffic to slow things up a little bit.
"We never got there, because he ended up breaking. Once I got out front, I felt pretty comfortable, and I was just trying to run a smooth pace so we didn't burn the tires off it."
Continued Dewease, "We've gotten pretty quick here the last two weeks, and we had the breaks go our way tonight. I think you were going to need that tonight with how the track started and how everything was. You have to take advantage of it, which we did."
Fans waited for a late-race battle for the lead. It never materialized, as Abreu slowed on the backstretch with 13 laps to go and handed the top spot to Dewease.
After the race, Abreu indicated that they didn't diagnose the problem, but he felt it was in the drive train. As for Dewease, it put him in clean air ahead of Macri and the fast-closing Cisney.
"I was biding my time for lapped cars," Dewease said. "The guy out front has such an advantage here when you have to run the top. You just carry that momentum, and I needed him to break that momentum a little bit.
"I thought I was creeping up on him before he broke. He was getting to lapped cars, and it looked like he was slowing up a bit, but it was whatever happened. It is what it is, you've got to make it 50 laps, and we made it to the end."
With Abreu out of contention, Dewease owned the restart. He distanced himself by 1.449 seconds with 10 to go and left Macri and Cisney to wage a fierce battle for the runner-up spot.
Dewease's lead was erased on Lap 41 when Aaron Reutzel slowed. On the restart, Dewease was gone again, and Macri and Cisney traded slide jobs at opposite ends of the speedway over the next two circuits.
Macri was able to fight off Cisney's charge and get some breathing room. The problem was, Dewease was out front by 2.325 seconds by Lap 45.
"I was good in clean air," Dewease said. "I never saw [Macri] or really heard him. My big concern was getting a good start and getting through one and two without seeing him and just settle in.
"That last start through one and two felt really good. I really rolled through there and down the backstretch, and once you get up momentum, it's harder for them to get by you. I was kind of happy to not be in traffic and just get going. It's a long race and a lot can happen in the second half. You still have to make it to the end to win, and we were fortunate to do that."
Macri chopped a second off of Dewease's lead in the last three laps, but he couldn't get close enough to make anything happen.
The flash bulbs popped, and Dewease took the popular win. Macri was 1.164 seconds back, earning his second consecutive runner-up finish in this event.
"Obviously, there is nothing to hang your head about when you run second to Lance on a slick racetrack," Macri said. "I gave it everything I had, but Lance was in clean air. We gave it our all.
"I felt we were kind of behind from the start. I didn't feel like I had as good of a car as I've had here in the past. We took some horsepower out for the feature, and I think that might have hurt us for straightaway speed but helped us when we got to lapped traffic, because the car was locked down.
"I was hoping we would get back into lapped traffic during the second half of the feature, but it is what it is."
Cisney settled for third, garnering his second top-five finish of the weekend. Kyle Larson stormed from 22nd to fourth in the final rundown, with Thursday's winner, Cory Eliason, completing the top five.
"It feels good to get a podium," Cisney said. "At least we know we are right there and in contention. We just needed a little bit to have a shot at the 69.
"I needed to get the 39 cleared on the restart and not race so hard, but we were right there, and my guys gave me a great car all weekend."
Sprint Car Feature Finish, 50 Laps: 1. Lance Dewease; 2. Anthony Macri; 3. Dylan Cisney; 4. Kyle Larson; 5. Cory Eliason; 6. Logan Wagner; 7. Tyler Courtney; 8. Spencer Bayston; 9. Kerry Madsen; 10. Freddie Rahmer; 11. Brent Marks; 12. Danny Dietrich; 13. Tony Stewart; 14. Mike Wagner; 15. James McFadden; 16. Blane Heimbach; 17. Ian Madsen; 18. Brock Zearfoss; 19. Brian Brown; 20. Gio Scelzi; 21. Aaron Reutzel; 22. Paul McMahan; 23. Rico Abreu; 24. T.J. Stutts; 25. Jared Esh.
DNQ: Skylar Gee; Shane Stewart; Brett Michalski; Robbie Kendall; Curt Stroup; Kyle Moody; A.J. Flick; Justin Peck; Sye Lynch; Zeb Wise; Michael Walter II; Kyle Reinhardt; Tyler Bear; Lucas Wolfe; Greg Wilson; Tyler Walton; Trenton Sheaffer; Dustin Baney; Brie Hershey; Nicole Bower; Brent Shearer; Troy Fraker; Cale Thomas; Drew Ritchey; Alan Krimes.